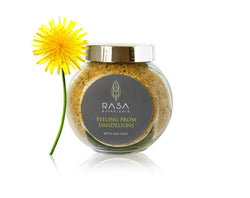 Dandelion Flowers Scrub
Size: 6.42 fl.oz.
Gentle scrub designed for gentle skin cleansing. The scrub contains sea salt and dandelion flowers.
Dandelions have the function of removing excess fluid and restoring the skin. The scrub helps to clean pores, reduce redness and soothes the skin. The scrub is suitable for skin areas affected by cellulite.
Effective for body skin care, as it is in powder form, contains very fine plant particles and sea salt, which gently cleans the upper layer of the epidermis.
How To Use:
Apply to moist skin and massage a small amount with circular motions. Then rinse with warm water.
Ingredients:
Maris sal, Taraxacum officinale flowers.