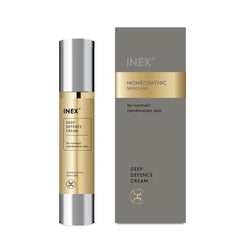 Defence Cream
Size: 1.70 fl.oz.
For dry / normal / combination skin
A rich cream that is designed to nourish and refresh tired skin. Possesses skin barrier protective properties, boosting the skin's natural defence mechanism against free radicals and urban pollution. Supplemented with hyaluronic acid and unique homeopathy formulas for added skin protection and care.
Benefits:
- Active botanical ingredients help to restore and strengthen the skin's protective layer and helps to strengthen the natural protective functions of the skin. Heal damaged skin, reduce irritation and soothe, as well as refreshes. Stimulates skin regeneration and regeneration of new skin cells, reduces the signs of skin ageing.
- The antioxidants effectively act against free radicals formed in the body from urban pollution and UV radiation and help reduce the signs of aging and even out the skin tone, as well as protect the skin from environmental aggressors.
- With no added fragrances that can cause allergic reactions, it is an excellent choice for people with sensitive skin. Just natural ingredients scent.
MENTHA Mentha extract soothes and removes imperfections. Cleanses and heals the skin. Unclogs pores and exfoliates dead cells. It helps to tone the skin and gives a fresh feeling to it.
ECHINACEA Echinacea stimulates the regeneration of new skin cells, reduces the signs of skin ageing. It helps to reduce the appearance of wrinkles and fine lines by up to 55%. Extract activates body to decrease irritation, fight the harmful bacteria that can cause spots and help prevent further outbreaks. Good for smoothing the skin.
SAMBUCUS (elderberry) extract has skin-soothing effect. Infused with anti-ageing and free radical fighting properties. It helps to prevent distressing skin conditions. Elderberry can help fighting inflammation. The rich antioxidant composition of flower and leaf extract of elderberry effectively acts against free radicals, which are formed in the body from urban pollution and UV radiation.
DIOSCOREA extract revitalise the appearance of skin and help to make it look and feel younger. It leaves skin firmer and more luminous while minimising the appearance of wrinkles and ageing signs. It has pronounced regenerative properties, restores and strengthens the skin's protective layer.
How To Use:
Apply a thin layer on cleansed face, neck and décolleté every morning and night. For a holistic skin care, it is recommended to use together with INEX Defence pearls, ensuring care for the health of the skin from the inside and outside of the body.
Ingredients:
Aqua • Caprylic Capric Triglyceride • Isoamyl Laurate • Simmondsia Chinensis Seed Oil • C12-16 Alcohols • Glycerin • Pentylene Glycol • Cetearyl Alcohol • Hydrogenated Lecithin • Palmitic Acid • Cetyl Palmitate • Alcohol • Sorbitan Palmitate • Sodium Levulinate • Sorbitan Oleate • Xanthan Gum • Ascorbyl Palmitate • Sodium Anisate • Tocopherol (Vitamin E) • Hydrolised Hyaluronic Acid • Sambucus Nigra (Black Elderberry) Extract • Mentha Piperita (Peppermint) Extract • Mentha Piperita (Peppermint) Oil • Echinacea Purpurea (Purple Coneflower) Extract • Citric Acid • Helianthus Annuus Seed Oil • Soidum Phytate • Dioscorea Villosa (Wild Yam) Extract