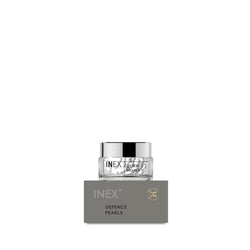 Defence Pearls
100% Natural. Beauty pearls for skin's health, which help to improve the skin's natural defence mechanism against urban pollution and free radicals. Herbal extracts and homeopathic potencies ensure efficiency of active ingredients on the skin from within. The blend of active botanical ingredients and antioxidants for skin's health and protection. 30 pearls for internal use (dietary supplement) 6 g | 0.4 oz.
Benefits:
- Active botanical ingredients help to naturally maintain body's immunity and defence system.
- Improves sleep and helps to relax.
- Pearls are suggested to use in combination with INEX Deep Defence cream to double the effect of refined, hydrated and more radiant look of your skin. ! Do not use the supplement to replace a balanced diet.
MENTHA Mentha extract soothes and removes imperfections. Cleanses and heals the skin. Unclogs pores and exfoliates dead cells. It helps to tone the skin and gives a fresh feeling to it.
ECHINACEA Echinacea stimulates the regeneration of new skin cells, reduces the signs of skin ageing. It helps to reduce the appearance of wrinkles and fine lines by up to 55%. Extract activates body to decrease irritation, fight the harmful bacteria that can cause spots and help prevent further outbreaks. Good for smoothing the skin.
SAMBUCUS (elderberry) extract has skin-soothing effect. Infused with anti-ageing and free radical fighting properties. It helps to prevent distressing skin conditions. Elderberry can help fighting inflammation. The rich antioxidant composition of flower and leaf extract of elderberry effectively acts against free radicals, which are formed in the body from urban pollution and UV radiation.
DIOSCOREA extract revitalise the appearance of skin and help to make it look and feel younger. It leaves skin firmer and more luminous while minimising the appearance of wrinkles and ageing signs. It has pronounced regenerative properties, restores and strengthens the skin's protective layer.
How To Use:
The recommended dose for adults is 1 dragee per day, allowing it to melt under the tongue. 10 min before and after do not eat and drink. Use for 1 month, take a break for 3 months. The packaging is for 4 months course. WARNING Do not use the supplement to replace a healthy and balanced diet. Keep out of the reach of children ! Do not exceed the recommended daily dose! Store in room temperature (15 – 25ºC), dry and dark place.
Ingredients:
1 Dragee (0.20 G) Contains: 2 Mg Sucrose And Tincture In Equal Proportions – Echinacea D1 (Echinacea Purpurea) Fresh Aerial Parts Tincture (3:7) • Sambucus D1 (Sambucus Nigra) Equal Parts Of Fresh Leaves And Inflorescences Tincture (3:7) • Dioscorea D1 (Dioscorea Villosa) Fresh Underground Parts Tincture (3:7) • Mentha D1 (Mentha Piperita) Fresh Aerial Parts Tincture (3:7) • Mentha Piperita Oil (Oleum Mentha)