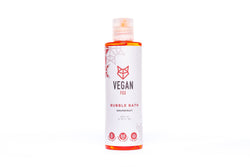 Vegan Fox
Grapefruit Bubble Bath
Size: 6.76 fl.oz.
Get a refreshing and exhilarating bath time with Vegan Fox Grapefruit bath foam, which is rich and lasting and gives your skin a especially fresh scent. The composition is supplemented with betaine, a natural sugar beet moisturiser which makes the skin silky and smooth, and glycerin, which has a water-binding property which helps the skin retain moisture.
How To Use:
While filling up the bath, pour the foam under a strong water jet, then rinse thoroughly with running water.
Ingredients:
Aqua, Sodium Laureth Sulfate (SLES), Sodium Chloride, Sodium Laureth-5 Carboxylate, Glycerin, Betaine, Polyquaternium-7, Propylene Glycol, Cocamine Oxide, Cocamidopropyl Betaine, Citric Acid, Methylchloroisothiazolinone, Methylisothiazolinone, Magnesium Chloride, Magnesium Nitrate, Parfum, Limonene, Linalool, Geraniol, Citronellol, Citral, CI 15985, CI 16255.