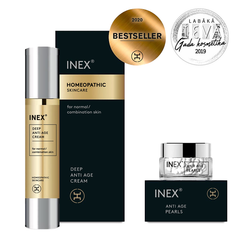 INEX Anti-Age Power Set
For normal / combination skin
Power Set helps to eliminate fine wrinkles, improve skin's elasticity and tone. It helps to restore your skin's healthy-looking radiance. The blend of active botanical ingredients, vitamins C and E, antioxidants and oils stimulates the skin's innate regenerative capacity. INEX function – beauty pearls from inside + skincare cream from outside, ensures an extensive approach to your everyday skincare routine. The cream: perfect fit for dry / combination skin or can be used as a rich restoring night cream for oily skin.
Set contains: INEX Anti Age pearls /30 pearls/ + INEX Deep Anti Age cream /50ml | 1.7 oz./
Benefits:
- Active botanical ingredients help to reduce fine lines, participates in skin regeneration processes, promoting elastin and collagen synthesis. Polysaccharides take care of the long-lasting moisturizing of the skin.
- Antioxidant properties effectively neutralizes the effects of free radicals, reduces ageing and skin pigmentation.
- Vitamin C helps to improve the look of multiple signs of ageing and brighten an uneven skin tone. As well as holds skin-restoring and soothing properties, and protects the skin from environmental aggressors. Vitamin E may be effective at reducing UV damage in skin. And applied topically may help nourish and protect your skin from damage caused by free radicals.
ALOE VERA extract provides nutrient-rich and balanced hydration to your skin. Active components of antioxidants neutralise free radicals and the complex of enzymes help to reduce irritation, calm and soothe the skin when applied externally.
CALENDULA extract deeply hydrates the skin, heals uneven skin tone and makes it look younger and suppler. It heals irritated and wounded skin and is an effective remedy for dry skin which prevents premature ageing also promotes fast healing and regeneration of the skin.
ARNICA extract soothes and renews the skin after exposure of stress and proven to fight free radicals. The antibacterial, antiseptic and anti-inflammatory properties of this herb help to prevent skin's disorders.
PLANTAGO (broadleaf plantain) extract treats acne, it clears off the blemishes and keep the skin glowing. This extract is used for faster healing and regeneration of skin cells.
SAMBUCUS (elderberry) extract has skin-soothing effect. Infused with anti-ageing and free radical fighting properties. It helps to prevent distressing skin conditions. Elderberry can help fighting inflammation. The rich antioxidant composition of flower and leaf extract of elderberry effectively acts against free radicals, which are formed in the body from urban pollution and UV radiation.
DIOSCOREA extract revitalise the appearance of skin and help to make it look and feel younger. It leaves skin firmer and more luminous while minimising the appearance of wrinkles and ageing signs. It has pronounced regenerative properties, restores and strengthens the skin's protective layer.
How To Use:
CREAM – Apply a thin layer on cleansed face, neck and décolleté every morning and night. For oily skin, the cream can be used as a rich, regenerating night cream. For a holistic skin care, it is recommended to use together with INEX Anti-Aging pearls, ensuring care for the health of the skin from the inside and outside of the body.
PEARLS – the recommended dose for adults is 1 dragee per day, allowing it to melt under the tongue. 10 min before and after do not eat and drink. Use for 1 month, take a break for 3 months. The packaging is for 4 months course. WARNING Do not use the supplement to replace a healthy and balanced diet. Keep out of the reach of children ! Do not exceed the recommended daily dose! Store in room temperature (15 – 25ºC), dry and dark place.
Ingredients:
Cream – Aqua • Butyrospermum Parkii (Shea) Butter • Macadamia Ternifolia (Macadamia) Seed Oil • Olus Oil • Sorbitan Olivate & Cetearyl Glucoside • Simmondsia Chinensis (Jojoba) Seed Oil • Glycerin • Glyceryl Stearate Citrate • Alcohol (1.64%) • Polyglyceryl-3-Stearate • Sodium Levulinate • Tocopherol (Vitamin E) • Hydrogenated Lecithin • Xanthan Gum • Ascorbyl Glucoside (Vitamin C) • Stearic Acid & Palmitic Acid • Parfum • Calendula Officinalis (Pot Marigold) Flower Extract • Plantago Major (Broadleaf Plantain) Leaf Extract • Dioscorea Villosa (Wild Yam) Root Extract • Sodium Anisate • Sambucus Nigra (Black Elderberry) Leaf / Flower Extract • Aloe Barbadensis (Aloe Vera) Leaf Extract • Lactic Acid • Sodium Phytate • Arnica Montana (Arnica) Root Extract • Limonene • Linalool.
Pearls – 1 Dragee (0.20 G) Contains: 2 Mg Sucrose And Tincture In Equal Proportions – Aloe D1 (Aloe Barbadensis) Leaf Tincture (3:7) • Aloe D6 (Aloe Barbadensis) Leaf Tincture (1:10) • Calendula D1 (Calendula Officinalis ) Fresh Aerial Parts Tincture (3:7) • Calendula D6 (Calendula Officinalis) Fresh Aerial Parts Tincture (1:10) • Plantago D1 (Plantago Major) Fresh Aerial Parts Tincture (2:8) • Sambucus D1 (Sambucus Nigra) Equal Parts Of Fresh Leaves And Inflorescences Tincture (3:7) • Sambucus D6 (Sambucus Nigra) Equal Parts Of Fresh Leaves And Inflorescences Tincture (1:10) • Dioscorea D6 (Dioscorea Villosa) Fresh Underground Parts Tincture (1:10).