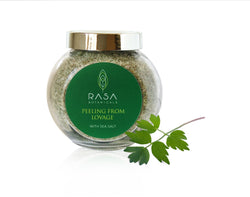 Lovage Scrub
Size: 6.42 fl.oz.
Gentle scrub designed for gentle skin cleansing. The scrub contains sea salt and lovages leaves.
Lovage has an antiseptic and relaxing effect. The scrub has the fresh aroma of peels.
Effective for body skin care, as it is in powder form, contains very fine plant particles and sea salt, which gently cleans the upper layer of the epidermis.
How To Use:
Apply to moist skin and massage a small amount with circular motions. Then rinse with warm water.
Ingredients:
Maris sal, Levisticum Officinale leaves.