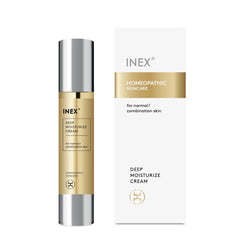 Moisturize Cream
Size: 1.70 fl.oz.
For normal / combination skin
A silky cream that is designed to deliver a refreshing, smooth skin sensation. Contains betaine, known for its effective hydrating and calming properties. Infused with moisturizing botanical ingredients supplemented with unique homeopathy formulas for gentle skin care.
Benefits:
- Active botanical ingredients help to moisturize and soften, giving the skin a radiant look. Heal skin injuries and reduces irritation – redness and inflammation of the skin. Help to improve skin's elasticity, stimulating collagen and elastin synthesis in the body, visually reducing signs of ageing and fine lines.
- The antioxidants protect the skin from harmful free radicals and help reduce the signs of aging and even out skin tone, as well as rejuvenate and soothe the skin.
- With no added fragrances that can cause allergic reactions, it is an excellent choice for people with sensitive skin. Just natural ingredients fresh scent.
ALOE VERA extract provides nutrient-rich and balanced hydration to your skin. Active components of antioxidants neutralise free radicals and the complex of enzymes help to reduce irritation, calm and soothe the skin when applied externally.
CALENDULA extract deeply hydrates the skin, heals uneven skin tone and makes it look younger and suppler. It heals irritated and wounded skin and is an effective remedy for dry skin which prevents premature ageing also promotes fast healing and regeneration of the skin.
HAMAMELIS (Witch hazel) extract is a natural acne treatment and it removes excess oil from the skin. This natural antioxidant helps to protect the skin from exposure of pollution, diet and stresses causing skin's ageing.
PLANTAGO (Broadleaf plantain) extract treats acne, it clears off the blemishes and keep the skin glowing. This extract is used for faster healing and regeneration of skin cells.
How To Use:
Apply a thin layer on cleansed face, neck and décolleté every morning and night. For a holistic skin care, it is recommended to use together with INEX Moisturize pearls, ensuring care for the health of the skin from the inside and outside of the body.
Ingredients:
Aqua • Butyrospermum Parkii (Shea) Butter • Simmondsia Chinensis Seed Oil • Caprylic Capric Triglyceride • Glycerin • Pentylene Glycol • Betaine • Cetearyl Alcohol • C12-16 Alcohols • Cetyl Palmitate • Alcohol • Sorbitan Palmitate • Sorbitan Oleate • Sodium Levulinate • Hydrogenated Lecithin • Palmitic Acid • Xanthan Gum • Ascorbyl Palmitate • Tocopherol (Vitamin E) • Sodium Anisate • Helianthus Annuus Seed Oil • Sodium Phytate • Citric Acid • Aloe Vera Extract • Calendula Officinalis Extract • Hamamelis Virginiana (Witch Hazel) Extract • Plantago Major Extract