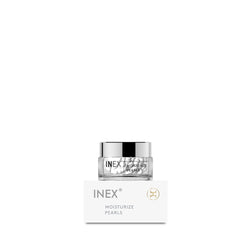 Moisturize Pearls
100% Natural. Beauty pearls for skin's health with deeply moisturizing properties. Herbal extracts and homeopathic potencies ensure efficiency of active ingredients on the skin from within. The blend of active botanical ingredients and antioxidants for skin's health and hydration. 30 pearls for internal use (dietary supplement). 0.40 oz.
Benefits:
- Active botanical ingredients help to ensure healthy skin and its epithelium. It helps to moisturize and reduce skin's dryness, as well as maintains flawless and promotes its regeneration process.
- Protects the skin against inflammation, helps the body to overcome stress, eliminates age-related changes.
- Pearls are suggested to use in combination with INEX Deep Moisturize cream to double the effect of brighter, smoother and more radiant look of your skin. ! Do not use the supplement to replace a balanced diet.
ALOE VERA extract provides nutrient-rich and balanced hydration to your skin. Active components of antioxidants neutralise free radicals and the complex of enzymes help to reduce irritation, calm and soothe the skin when applied externally.
CALENDULA extract deeply hydrates the skin, heals uneven skin tone and makes it look younger and suppler. It heals irritated and wounded skin and is an effective remedy for dry skin which prevents premature ageing also promotes fast healing and regeneration of the skin.
HAMAMELIS (Witch hazel) extract is a natural acne treatment and it removes excess oil from the skin. This natural antioxidant helps to protect the skin from exposure of pollution, diet and stresses causing skin's ageing.
PLANTAGO (Broadleaf plantain) extract treats acne, it clears off the blemishes and keep the skin glowing. This extract is used for faster healing and regeneration of skin cells.
How To Use:
The recommended dose for adults is 1 dragee per day, allowing it to melt under the tongue. 10 min before and after do not eat and drink. Use for 1 month, take a break for 3 months. The packaging is for 4 months course. WARNING Do not use the supplement to replace a healthy and balanced diet. Keep out of the reach of children ! Do not exceed the recommended daily dose! Store in room temperature (15 – 25ºC), dry and dark place.
Ingredients:
1 Dragee (0.20 G) Contains: 2 Mg Sucrose And Tincture In Equal Proportions – Aloe D1 (Aloe Barbadensis) Leaf Tincture (3:7) • Aloe D6 (Aloe Barbadensis) Leaf Tincture (1:10) • Calendula D1 (Calendula Officinalis) Fresh Aerial Parts Tincture (3:7) • Hamamelis D6 (Hamamelis Virginiana) Branch Bark Tincture (1:10) • Plantago D1 (Plantago Major) Fresh Aerial Parts Tincture (2:8)