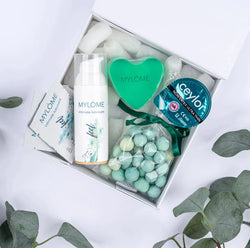 MYLÓME Gift Set
Contents of the gift set:
- FEEL lubricants 50 ml;
- MYLOME hand soap in the shape of a heart;
- MYLOME lubricant samples 3 pcs.;
- hazelnuts and waffle cones in white chocolate 50 g;
- condom ceylor non latex ultra thin condom made of polyurethane - the thinnest condoms in the world. 0.02 mm thin, 58 mm in diameter, 190 mm in length.
- a card with a romantic/erotic task.