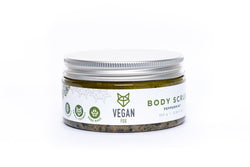 Vegan Fox
Peppermint Body Scrub
Size: 10.14 fl.oz.
The Peppermint Body Scrub with Salt will help you get healthier and more supple skin, cool and relax your joints and muscles and leave your skin smooth and firm. After using the scrub, your body skin will be fully nourished and moisturised. Composition enriched with:
– grape seed oil, which has a softening, anti-inflammatory and tonic effect,
– shea butter, which intensively nourishes and rejuvenates the skin,
– jojoba oil, which moisturizes the skin and ensures the absorption of active substances,
– vitamins C and E, which promotes the formation of calogen and skin regeneration,
– natural abrasive particles from apricot pits, which gently cleanse,
– mint leaves that refresh, relax and soothe the skin. 99% natural ingredients. Packaging – a tube of 100% recycled plastic with an aluminum cap.
How To Use:
Massage into moist, clean body skin and rinse off carefully once, twice per week. Stir the components before every usage. Do not use on irritated skin and right after depilation.
Ingredients:
Sodium Chloride, Vitis Vinifera (Grape) Seed Oil, Butyrospermum Parkii (Shea) Butter, Glycerin, Simmondsia Chinensis (Jojoba) Seed Oil, Mentha Piperita Leaf, Prunus Armeniaca (Apricot) Seed Powder, Mentha Arvensis (Peppermint) Leaf Oil, Helianthus Annuus (Sunflower) Seed Oil, Ascorbyl Palmitate (Vitamin C), Tocopherol (Vitamin E), Lecithin, Limonene (natural).