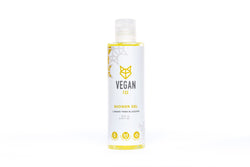 Vegan Fox
Shower Gel Linden-Tree Blossom
Size: 6.76 fl.oz.
Achieve a refreshed body skin with Vegan Fox Linden-tree shower gel, which will give your skin a summery linden-tree scent and gently cleanse it. The composition is enriched with aloe vera extract, which helps to keep the skin moisturised and soothes the skin, and with betaine, a natural sugar beet moisturiser that leaves the skin silky and smooth.
How To Use:
Gently massage into the skin, foam it up and then gently rinse it off with water.
Ingredients:
Aqua, Sodium Laureth Sulfate (SLES), Sodium Chloride, Aloe Barbadensis (Aloe Vera) Extract, Panthenol, Betaine, Cocamidopropyl Betaine, Cocamine Oxide, Propylene Glycol, Citric Acid, Polyquaternium-7, Methylchloroisothiazolinone, Methylisothiazolinone, Magnesium Chloride, Magnesium Nitrate, Potassium Sorbate, Sodium Benzoate, Parfum, Hexyl Cinnamal, Geraniol, CI 19140.